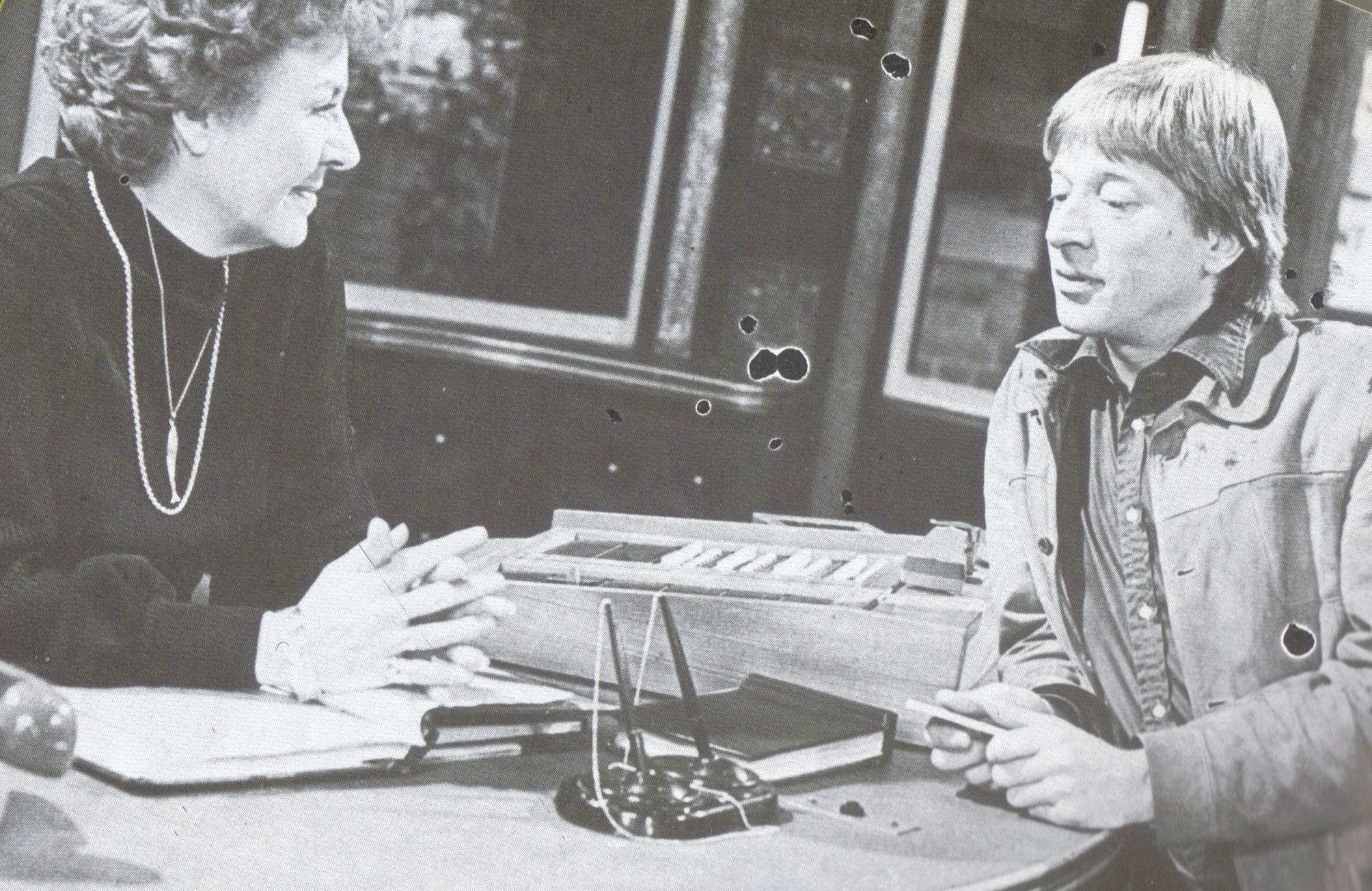 Of the many hundreds of actors and actresses who have appeared in Crossroads over the years, many have already been established stars; others have gone on to stardom thanks to their start on the programme.
Jon Finch, now an established film star, was a raw, inexperienced actor when he made his TV debut in episode 947. He played a weird and rather off-beat character called Gareth Leyton, and played the role with great assurance. When he left Crossroads Jon went on to find international stardom.
Another young actor now in the superstar bracket who started out in Crossroads is Malcolm McDowell. He made his very first TV appearance on the programme in episode 643, way back when he was just twenty years old. Can you remember the part he played? Crispin Ryder, a PR consultant. After Crossroads, Malcolm went on to appear in TV series like Z Cars and Dixon of Dock Green, then into films like A Clockwork Orange, If and Oh, Lucky Man.
Another young actor who appeared opposite Noele Gordon in the series, this time one with a famous father, was Andrew Ray, son of Ted.
Actors aren't the only people who have appeared on Crossroads. When someone was needed to play Monsieur Fabrice, who was demonstrating hair styles at Vera Downend's salon, the choice was an obvious one. Teazy Weazy Raymond had become a star of TV in the fifties, creating hair styles in a variety series called Quite Contrary. Who better to play Monsieur Fabrice? Incidentally, Teazy Weazy's wife, Rosalie Ashley, also appeared in the series for a while. She played Jane Mortimer, who died during a brain operation.
Critic and magician Clifford Davis discusses a point with guest Godfrey Winn
When a sequence of magic was needed in one episode, Clifford Davis, New Faces panellist and TV critic was called in. Clifford is also a professional magician, and was asked if he could suggest a way of levitating Diane, played by Sue Hanson. To create the stage illusion on TV would prove very difficult, so Clifford and the production team decided to use trick camera work instead. After Clifford's spot at the magic convention that was being held at the motel, actor Alan Haines took over and, thanks to trick camera shots and angles, seemed to make Sue float in the air. Millions of viewers were fooled, and the producer decided to end the show with a bang - with a shot of Amy Turtle floating in mid-air!
The popular comic Don McLean started out as an actor, and appeared on Crossroads, playing a member of Benny Wilmot's group, Georgie Saint and the Dragons. From that he went on to find fame as a comic - remember him on Crackerjack?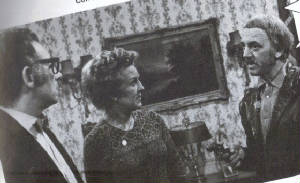 Another comic who landed a dramatic role in Crossroads was Stan Stennett. He had to play a gunman on the run who held a couple hostage, and made such a success of the part that he went on to be offered many more serious acting roles.
Do you remember when Ken Dodd made his TV debut as a straight actor? Yes, it was on Crossroads, too. He played the part of a hotel guest, and started off playing the scene straight, but then his famous sense of fun got the better of him, and soon it was jokes all the way. The technicians were laughing so much that they could hardly carry on...
Another face you might remember is that of Diane Keen. She appeared in Crossroads for a long time, playing the part of cheeky Cockney waitress Sandra Gould. In the series she was supposed to have a crush on the motel manager, played by Paul Greenwood - and Diane and Paul ended up getting engaged during the series! Diane went on to appear in The Fall of Eagles, playing Empress Elizabeth of Austria, and in The Cuckoo Waltz, as Fliss.