Wendy Padbury, who appeared in Dr Who as one of time traveller's assistants, also started out on TV in Crossroads. She was only seventeen at the time, and played the part of a fouteen year old from a broken home, Stevie Harris, who was fostered by Meg.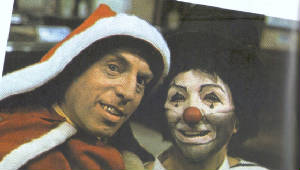 When Larry Grayson was appearing in cabaret in Solihull the producer and casting director and some members of the Crossroads cast went along to see him, and enjoyed his jokes about the programme. When they went backstage to congratulate him he told them that he was a real fan and asked, "Why don't you get me a spot?" So it was that, soon after, Larry appeared as a motel guest. He was supposed to complain about his room, but ignored the script completely, amking it all up as he went along. Noele enjoyed his ad libs as much as the viewers, and since then she and Larry have been firm friends.
Two Coronation Street stars have also made appearances on Crossroads. Bryan Mosley (Alf Roberts in the Street) has appeared several times, in various roles, and Stephen Hancock, who played Ernie Bishop for many years, appeared as two characters - Councillor Clewes and Warren Haycroft.
Orchestra leader Joe Loss, former England football captain Billy Wright, funny man Bob Monkhouse and TV personality Shaw Taylor - the list of stars who have appeared on Crossroads goes on and on.