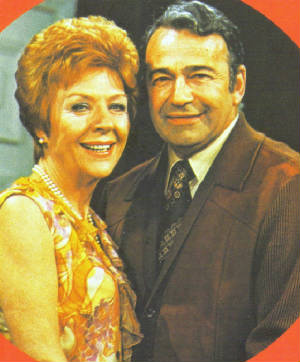 As the saying goes, the path of true love never runs smooth, and that has certainly been true for Meg Mortimer. Ever since she opened the Crossroads Motel in 1963, after losing her first husband, Meg has been on a romantic roller coaster with more than its fair share of downs, and her relationship with Hugh Mortimer was no exception.
Hugh and Meg first met in the mid-sixties and they were attracted to each other right from the start. Hugh was rich, successful, good-looking and full of sophisticated charm. It was hardly surprising that Meg fell for him although she had her reservations about some of his more shady business methods. However, love conquers all, and Meg finally agreed to marry Hugh. After the engagement the romance continued to blossom - until Louise Borrelli appeared on the scene.
Louise was the beautiful daughter of one of Hugh's American business associates, and she decided that engaged or not, Hugh Mortimer was the man for her. In spite of the fact that the attraction was very one-sided, Hugh's friendship with Louise caused a rift between Meg and himself and, anxious not to lose his fiance, he had a heart-to-heart talk with Louise, telling her that she wasn't the girl for him. But it was too late. For Meg the relationship had soured, and it was almost a year before Hugh came into her life again.
Even then, she found it hard to rid herself of her doubts. Hugh took her to Paris for a romantic weekend, and although it was obvious that they were still in love, Meg wasn't convinced. They separated, only to come back together again when Hugh was taken ill. For a time they feared that he was dying, and Meg realised that she didn't want to lose him. When he recovered they talked of marriage and got engaged for a second time.
But this engagement was also doomed. Meg had flown to Tunisia on Hugh's behalf to organise the opening of a hotel, while Hugh was in Australia sorting out some business problems. Or so Meg thought ... until she received a telegram saying that Hugh had married someone else. The 'other woman' was Jane Templeton; young, pretty, and dying of a tumour on the brain. She came to England for an operation to remove it, and Meg's bitter feelings had to be put aside. Jane told her that Hugh's betrayal wasn't as heartless as it seemed - he had married her to give her a few months of happiness, knowing that she hadn't long to live. She died in hospital, never regaining consciousness after the operation.
Anxious to put the past behind her, Meg worked harder than ever, and was soon being courted by the plausible Malcolm Ryder. Her barriers down after the heartbreak of her romance with Hugh. Meg married Ryder, and made a mistake that almost cost her her life. Ryder was a weak, unscrupulous man, and when he found himself in financial difficulties he decided to poison Meg and claim the insurance money. Fortunately he was discovered, and when confronted with his crime he walked out of the motel and out of Meg's life. Some time later news came that he had burnt to death in a car crash in South America.
But what of Hugh? He had never forgotten Meg, and when they met again, some eight years after their first meeting, they fell in love all over again. Hugh proposed for the third time, and soon Meg was wearing engagement ring number htree - a large, square-cut diamond surrounded by sixteen smaller diamonds. Surely nothing could go wrong this time.