Noele Gordon lives something of a dual existence. To millions of TV fans she is Meg Mortimer, owner of the Crossroads Motel; many almost refuse to believe that she is simply an actress playing a part, with a very different private life of her own away from the TV studios. To them Meg is a real person.
The role of Meg has brought Noele many accolades and awards from countries all over the world - in fact, she has made more TV appearances than any other actress.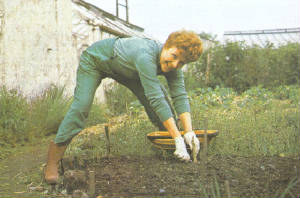 Noele's transition to top TV personality really began in 1959, when she was hosting what was the Midlands' first TV chat show, Lunch Box. Outside-broadcast shows had been tried, and the huge fan following that Noele had really impressed Sir Lew Grade, who wanted to do more. The original producer Reg Watson said that technical problems would make that a difficult project, but he took the opportunity to talk to Sir Lew about another idea he was keen on. He wanted to produce a serial - a daily serial - something that had never been tried before on British television.
Sir Lew didn't say much about Reg's idea at the time, but five years later Noele was shocked to hear that the still very successful Lunch Box was to be taken off, quite a shock after being with the programme for eight years. But the blow was softened somewhat by the news that Lunch Box was to be replaced with a daily serial - with Noele as its star. And that's how Noele Gordon, chat show hostess, became Noele Gordon, starring actress, in a show that was to become one of the most popular in the history of television.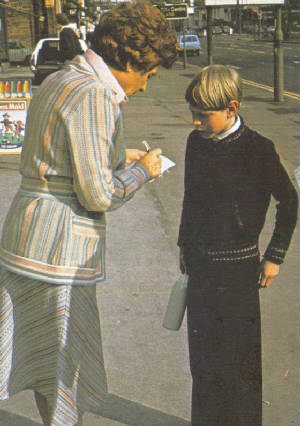 But let's go back to the start. We've heard how Meg started, but what of Noele herself?
As you may have guessed, Noele was born on Christmas Day. Her father was a Scottish ship's engineer who was away from home most of the time, and she was brought up by her mother in a strict Scots Presbyterian manner.
Jockey, as Noele calls her mother, had wanted a showbusiness career for herself, but had lacked the self-confidence. When Noele decided that she wanted to be an actress, her mother was always ready with help and encouragement.
As a child Noele lived in East Ham, London, and made her first stage appearance at the local music hall when she was just two and a half. She had her face covered in jam and sang Dear Little Jammy Face.
But that was just the start, and over the years young Noele tackled many stage jobs, eventually enrolling at RADA when she was fifteen. While she was still studying she landed her first professional part - as an understudy in the comedy Aren't Men Beasts at the Strand Theatre. Noele had to understudy all four female leads, and as all four actresses fell ill in turn, she went on stage in all four roles. Quite a debut!